Friday Firewise Tips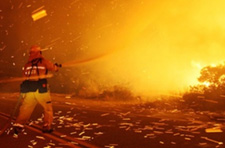 Friday Firewise TIP#1
–
Rake under wood decks and stairs, around foundation, and along fences. Keep these areas clean of anything that can burn.
   The greatest threat to your home comes from the embers that blow around during a fire (sometimes flying a mile from the flames).  Embers create heat, just like a campfire. If these embers or "fire brands" land on dry needles, leaves, or other easily ignited materials that are adjacent to decks, stairs, or fences they
will
start a blaze. The embers can cause a structure fire long before, or after, the big flames have passed.

Friday Firewise Tip #2 CLEAN GUTTERS /ROOF
Pine needles or leaves in gutters are a fire risk even if you have a fire resistant roof.  If embers from a wildfire are blown onto these fuels, ignition can occur. The flames will actually be burning under the shingles and can enter small gaps into the attic space, causing fire inside the home.  Keep gutters clean! Metal gutter screens may reduce the frequency of cleaning necessary for safety.  While the ladder is up there, be sure to clean any debris from the roof as well.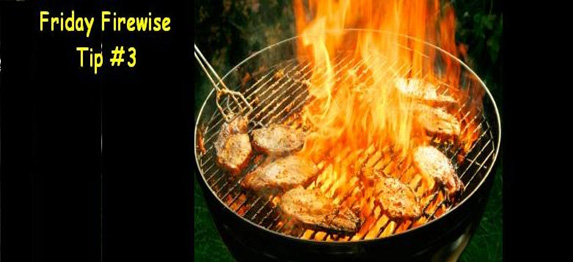 Friday Firewise Tip #3 CLEAR AROUND GRILLS AND PROPANE TANKS
Accidents happen!  Keep all grills at least 15 ft. from structures, be sure you have 10 feet of clear space and keep a fire extinguisher handy. Be certain the fire is out when you are finished. Propane tanks should also have a cleared space of at least 10 feet surrounding them and portable tanks should be stored away from structure.  U.S. fire departments respond to an average of 8,200 home fires (59% outside fires and 41% structure fires) involving grills, hibachis, or barbecues per year. (source: NFPA) These fires caused an average of $75 million in direct property damage, 15 deaths and 120 serious injuries each year.  84% of fires involved gas grills.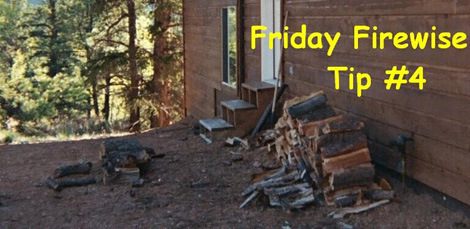 Friday Firewise Tip #4 MOVE THE WOODPILE
Before this winter's wood is delivered, restack firewood away from your structures. The woodpile should be at least 30 feet from the structure during fire season.  The burning embers of a nearby fire are the biggest threat and can blow into the woodpile causing a bonfire right next to your house. Heat from a fire rises and moves uphill, firewood should not be stacked on or under the deck, or downhill from your house.  Clear grass and small fuels for 10 feet around the woodpile for extra protection.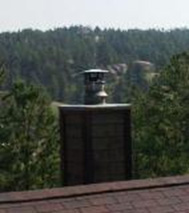 FRIDAY FIREWISE TIP #5 -Clean chimney and check cap. Replace if needed. Embers from woodstoves and fireplaces do rise up the chimney and can cause flue fires in dirty chimneys or escape through to top to land on roof or nearby vegetation. Cut away any branches or vegetation within 10 feet of chimney. Have your chimney cleaned before the heating season and make sure the cap has spark arrester screening.
Friday Firewise Tip #6 – Trim Up Branches.  Ladder fuels carry a ground or grass fire up into the branches of trees.  In the area around your home, remove branches within 6-10 feet of ground and clean any brush from under trees.  Remove this slash from property as soon as you can.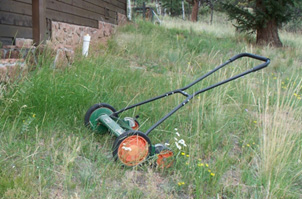 FRIDAY FIREWISE TIP # 7 – MOW ONE MORE TIME -   The mid-summer rain helped the grass and flowers recover, but now that fall is approaching, you need to mow one more time. Cut all the grass within 5 feet of your foundation to 2-3 inches tall. Remove all dead branches and leaf litter under shrubs. Consider replacing this zone with non-flammable landscaping next spring.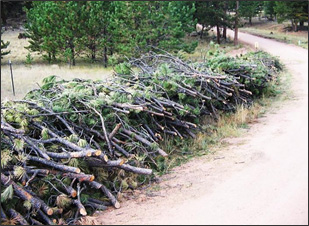 Friday Firewise Tip #8 – Now that you have cleaned up around your property, where do you dispose of the slash? For on-site chipping of large amounts in the Upper South Platte watershed, contact CUSP at 719/748-0033,  If you can transport the slash, check out these webs sites for location, times, and policies in this area.
www.bfslash.org – El Paso County 
www.fairplayslash.com – Park County
www.divideslashsite.com – Teller County
www.uppersouthplatte.org - CUSP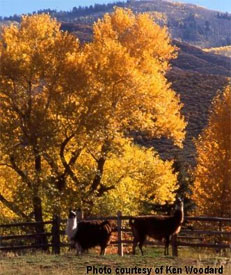 Friday Firewise Tip #9– Have you done all of your weekend Firewise projects? If you missed any, you can check the list at
www.uppersouthplatte.org
. This promises to be a beautiful weekend to look at fall colors instead of doing chores. Enjoy.
Friday Firewise #10 - The weather has been perfect to a walk in the woods. October to  December is the right time of year to check for insect problems in your trees. Look carefully. Is there any saw dust around the stump or extra sap on the trunk? Winter is the time to remove any infested trees so the insect problem won't spread and the trees will not become a fire hazard next year. Go to http://csfs.colostate.edu/pages/common-insects.html for general information. If you need more help, call your local Colorado State Forest district office or a certified forester.  Keep an eye out for the wildlife, too.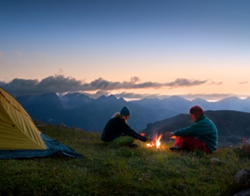 Friday Firewise #11 -Are you camping or hunting this season? Be sure you comply with all local open burning laws and take care with any campfires. Have tools and water at the ready to extinguish your fire, and make sure the fire is completely out before leaving your camp site. Stay safe.